Wasps Netball will take part in New Zealand's Super Club tournament, their first competition outside of the UK, as their preparations continue for the 2020 Vitality Netball Superleague season.
All six of the ANZ Premiership teams will be present alongside Collingwood Magpies Netball from Australia as every side looks to refine their work before their respective seasons begin next year.
The competition will feature 20 games being played over five days at the Trafalgar Centre in Nelson, and will culminate in the Grand Final on December 13.
Wasps Netball have been drawn in Pool A and will start their campaign against Invercargill's Southern Steel before taking on ANZ champions Central Pulse the following day.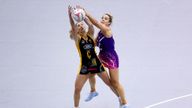 Wasps confirm 2020 Superleague squad
Wasps Netball were the first Vitality Netball Superleague side to confirm all 15 members of their squad for the 2020 season.
"We've had a very successful few years on the domestic level and this will be a great opportunity to test ourselves against some of the best teams in the world," said Wasps' head coach Mel Mansfield.
"To play against opposition of this calibre will be top preparation for the Vitality Netball Superleague season.
"There is a great buzz around netball in New Zealand at the moment, especially after they won the World Cup in Liverpool earlier this year, and the ANZ Premiership is going from strength to strength.