Heavy wind, rain and tornadoes have arrived in Japan, with Typhoon Hagibis setting in amid Rugby World Cup match cancellations.
The conditions have already seen England's Pool C clash with France in Yokohama and New Zealand's final Pool B game against Italy called off, with Eddie Jones and his squad returning to Miyazaki where they held their pre-tournament training camp.
View this post on Instagram

鈦?鈦edication [d蓻d瑟藞ke瑟蕛(蓹)n]鈦?鈦?. the quality of being committed to a task鈦?鈦?. the Japan rugby team nearly swimming to training鈦?鈦b仯 鈦fter Super Typhoon Hagibis hit the country, flooding made it a bit more of a task for the home team to get to training! 馃弶
A decision will be made at 12am (BST) on Sunday over whether Scotland and World Cup hosts Japan's crucial Pool A encounter in Yokohama will go ahead.
World Rugby has urged supporters not to travel unless it is "absolutely necessary", with train and flight services heavily disrupted.
Follow @Japan2019_ENG on Twitter for regular updates for fans at the Rugby World Cup.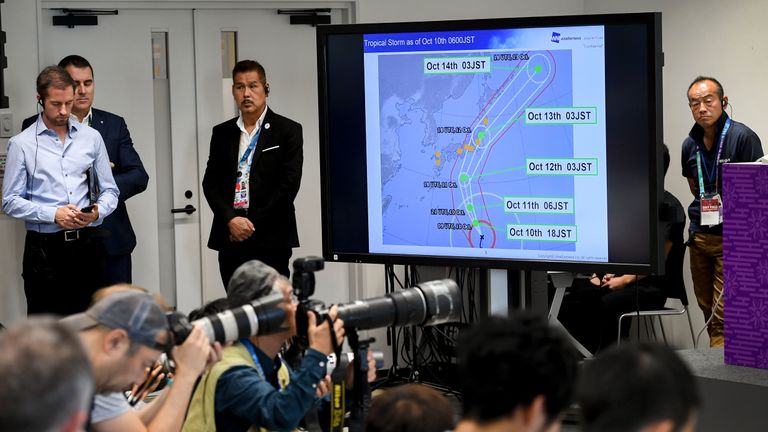 World Rugby disappointed as Scots get legal adviceHow Scotland could progress with abandonment
Two people have been confirmed dead and another 76 are missing.
Typhoon Hagibis brought heavy rainfall in wide areas of Japan ahead of its landfall, including Shizuoka and Mie prefectures, south-west of Tokyo, as well as Chiba to the north, which had suffered power outages and damaged homes from last month's typhoon.
About three million people in Japan have been advised to leave their homes as strong winds and rains picked up before the typhoon even arrived.
Hagibis has also triggered warnings of floods and landslides.
An earthquake measuring 5.3, according to the US Geological Survey, shook the areas which had been drenched by rainfall – the earthquake was in the ocean off Chiba, near Tokyo.
A tornado ripped through Chiba on Saturday, overturning a car in the city of Ichihara and killing a man inside.
'Typhoon should not dictate results'Japan braced for Typhoon Hagibis disruption
Typhoon #Hagibis, with sustained winds near 100 mph, will be making its expected landfall over the #Izu Peninsula over the next couple of hours before heading towards #Tokyo. pic.twitter.com/5xOJqN1APU

— Met Office Storms (@metofficestorms) October 12, 2019
Heavy rain and strong winds have been pounding Tokyo as the worst typhoon there in six decades approached.
The one that hit the Tokyo region in 1958 left more than 1,200 people dead and half-a-million houses flooded.