Dublin's All-Ireland final replay win over Kerry sealed an unprecedented five-in-a-row.
Sam Maguire will winter by the Liffey once again, after Jim Gavin's side moved through the gears in the second half to see off the Kingdom.
The question now is how the other counties can close the gap to the all-conquering Dubs.
At full-time on Saturday, the Sky Sports GAA panel ran the rule over what Dublin's rivals can do.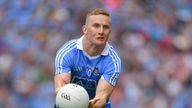 Subscribe to GAA alerts!
We'll send you push notifications so you'll receive all of the big GAA news!
Peter Canavan
The Dublin set-up is to be admired, and the way they do their business is to be admired.
Those players that play for Dublin have the best opportunity to give their best, be the best they can be. If other counties are going to catch up, they need to provide the same assistance in so many ways off the field of play.
In my own county I believe that's not happening. There's so much more that we can and going to have to do.
For example, Bryan Cullen, who Jim Gavin wanted, and he left Leinster Rugby, a very good professional setup to go to Dublin.
We have an excellent strength and conditioning man who left Tyrone GAA, a place where he wanted to be, to go to Ulster Rugby.
In so many ways I believe that Dublin are amateur in ethos but professional in practice. Maybe my own county at times, and others, are amateur in ethos and amateur in practice.
Until we close that gap we could be looking at seven, eight, nine in-a-row.
I think other counties will need to look at the way they do things. The game has moved on. Whether you like it or not, it's moved on, and there's so much more work to be done.