The latest MNF Extra, with Jamie Carragher, looks at Arsenal's defensive struggles and asks: Will they ever learn?
Arsenal's capitulation against Watford on Sunday was the latest reminder of the defensive problems that continue to hamper them. In the end, and despite having reached half-time with a two-goal advantage, they were fortunate to emerge from Vicarage Road with a point.
MNF: Centre-backs will cost City titleNev and Carra on… Nev and CarraFind out more about Sky Sports
That they avoided defeat, however, is little consolation to angry Arsenal fans who have seen it all before. A trip to the Premier League's bottom side should have been a relatively straight-forward assignment. Instead, Arsenal produced another masterclass in self-destruction.
On this occasion, the main offenders were Sokratis Papastathopoulos, whose poor pass from inside his own box allowed Tom Cleverley to score Watford's first goal, and his centre-back partner David Luiz, who conceded the penalty for the equaliser when he brought down Roberto Pereyra.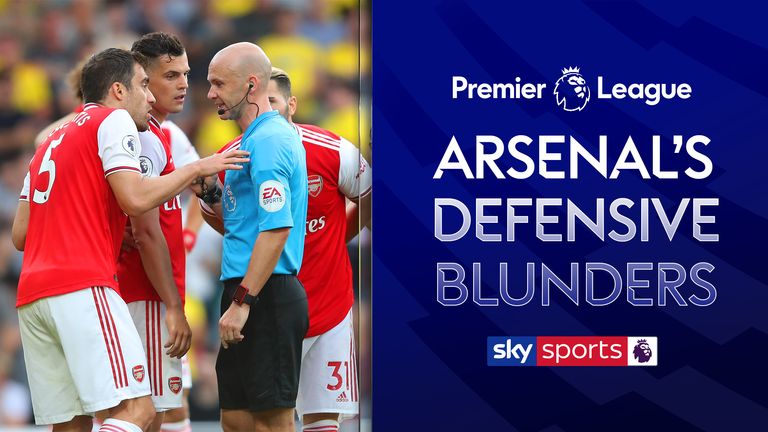 "For a long time, going back to when I was a kid, Arsenal were known as a really solid team," Jamie Carragher tells MNF Extra. "They have now gone completely the other way. They are a team you expect stupid things to happen to. Even when they are 2-0 up, you can never be convinced by them.
"I think Liverpool had a similar problem a few years ago, under Brendan Rodgers and at the start under Jurgen Klopp. No matter what the situation was, you always felt something could go wrong. What's worrying for Arsenal is that it's happening again in Emery's second season."
The individual mistakes have been a consistent theme of the Spaniard's tenure. Emery was charged with improving Arsenal's defence when he was appointed last summer, but since then they have made 14 errors leading directly to opposition goals and conceded 10 penalties, putting them top among Premier League sides in both categories.
Relegated Fulham are the only side who even come close to Arsenal's total for errors leading to goals – they made 12 last season – but even more worrying for the Gunners is that only three sides have faced more shots on target. The statistics point to deep-rooted defensive frailties.
The problems have been exacerbated lately by Arsenal's struggles when playing out from the back. Emery's side were unable to play through Watford's press on Sunday, their determination to play short goal kicks eventually costing them a goal, and it wasn't the first time.
Merson says: Emery to blame for collapseThe updated Premier League table
According to Opta's advanced metrics, Arsenal have conceded 34 high turnovers this season. Amazingly, that's seven more than any other Premier League side. By repeatedly losing possession close to their own goal, they are inviting opposition pressure and often paying the price.
In part, the issues come down to personnel. "Emery inherited poor defenders," adds Carragher. "He has tried to move on Shkodran Mustafi, who made a lot of mistakes, but in David Luiz they have signed another defender who makes mistakes and in Sokratis, the club have brought in someone else who is perhaps not at the level where they need him.
"I can understand the signing of David Luiz as he was cheap and they needed somebody, but I'm not his biggest fan and to give away two penalties in four games is not a great start at all. The problem is, that will not change, no matter who the manager is. David Luiz has had plenty of managers and he has always had the same problems."
Nonetheless, Sunday's game has put the man in the dugout in the spotlight. Emery is not helped by Arsenal's error-prone defenders, but their weaknesses are being exposed rather than protected.