Liverpool boss Jurgen Klopp says Manchester City are the best team in the world.
Liverpool are top of the Premier League table after a perfect start to their campaign and are five points clear of reigning champions City.
Liverpool to assess Robertson fitnessCharlie's European predictions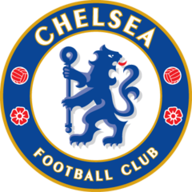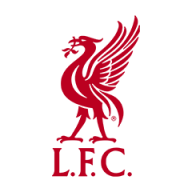 Chelsea vs Liverpool
September 22, 2019, 4:00pm
Live on
Get Sky Sports Get a Sky Sports pass
But Klopp believes City – who have averaged 99 points in the last two Premier League seasons – are still superior to his Liverpool side.
"We cannot be the best team in Europe because Manchester City are the best team in the world – and that is the same planet I've heard," Klopp said ahead of Liverpool's Champions League opener against Napoli.
"There are a lot of good teams out there and you have to prove that [you are up there with the best] constantly.
"Last year, we were really good. I'm not sure we were the best team in Europe, but we were really good in the right moments and that's why we won the Champions League."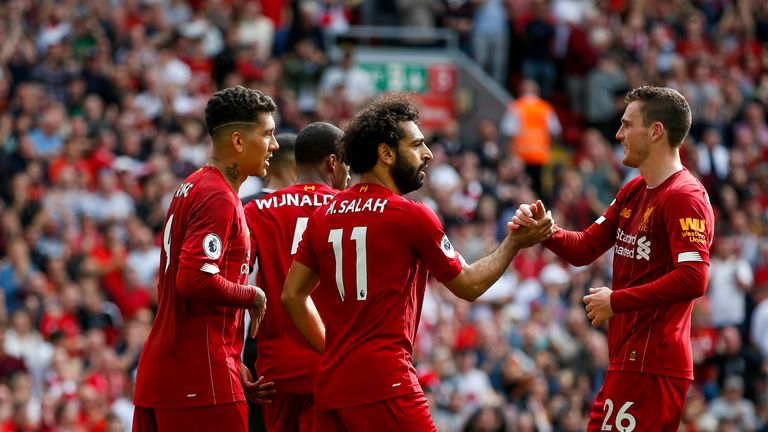 Liverpool beat Tottenham 2-0 in last season's Champions League final in Madrid to win their sixth European title, but Klopp says his team will not feel burdened by heading into this season's competition as champions.
"We don't feel the burden because I don't know exactly how that should feel to be honest," said the German.
"It's long ago. Three or four months. The question keeps coming up about whether teams will play differently against us. I have no clue to be honest.
"I never went into a Champions League season, winning the Champions League the year before, so we will experience that [together for the first time]. I hope we are prepared for that."
Liverpool captain Jordan Henderson lifted the Champion League trophy in Madrid last season, but the midfielder dismissed the notion that his side have a target on their back as reigning champions.
"I feel as though being at Liverpool everyone wants to beat you anyway," he said.
"It's the same for us, we want to beat everyone we play and they want to beat us.
"For us, it is the same as it always has been – it's to give everything in every single game we play in and we know it will be a tough game tomorrow.
"They're a great side but we've just got to concentrate on what we can do. If we perform at the level that I know we can then we'll have a good opportunity to win the game."
Analysis – Bryan Swanson, chief reporter in Naples…
Jurgen Klopp was at his blistering best as Naples turned up the heat in a small room inside the vast San Paolo stadium.
Klopp sweated his way through half an hour in front of the media ahead of his side's clash with Napoli with his usual humour while drinking plenty of water, as he attempted to pour cold water on repeated questions about Liverpool's new status as Champions League holders.
Asked whether he could use Champions League success to gain a psychological advantage, he replied: "It's so easy to carry on normal, if you have the right characters.
"If you go nuts and start taking drugs and drinking, and driving different cars, or whatever, and leave your missus at home because you think 'Now I'm a Champions League winner', then I can't help you. We are not like this. We want to create more stories in the future."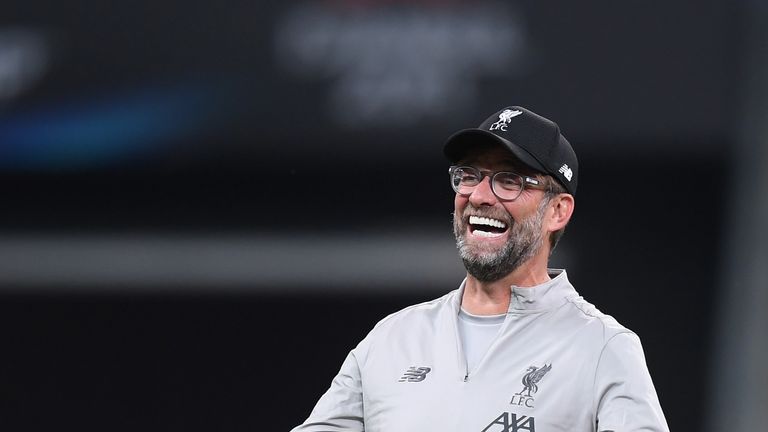 On the state of Napoli's dressing rooms, after criticism last week: "They're brilliant! I don't see anything new from last year." Was he wary of the 'San Paolo effect' for Napoli, similar to the effect of teams playing at Anfield: "Yes!" he smiled, in his only one-word answer of the news conference.
One Italian journalist wished him well: "From the bottom of your heart, I'm sure!", he replied with sarcasm. Would Klopp take a draw? "Let's see on the performance."
Last year, Liverpool travelled to Napoli and lost 1-0 in the Champions League group stage. Klopp is well aware of the improvement in 11 months but would not be drawn on specifics.
He was impressed by UEFA interpreter Patrick Kendrick's extensive answers – "unbelievable" – and his ability to handle the soaring temperatures. "He's not even sweating!" Klopp joked to the club's head of press Matt McCann, after one answer. "You don't even sweat, it's unbelievable!" he told Kendrick.