Liverpool boss Jurgen Klopp will play 'the kids' in the FA Cup replay against Shrewsbury and leave the game to U23 boss Neil Critchley because of the winter break.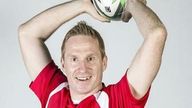 Throw-in coach explains all
In an exclusive interview with Sky Sports, Liverpool's Thomas Gronnemark explains his role.
Klopp also confirmed that Critchley will take charge of the team, just as he did for the Carabao Cup quarter-final against Aston Villa that Liverpool lost 5-0.
On that occasion, Liverpool's senior squad was in Qatar competing for the Club World Cup but this time it is about giving his players a proper rest.
Asked if they needed this rest, Klopp added: "It's only in this country that you ask this kind of question. It's a winter break. What do you think?
"I can give you the letter. We have to respect the players' welfare and that they need a rest – mental rest and physical rest.