Even by his own high-achieving standards, 2019 was a special year for Con O'Callaghan.
The Cuala man played a crucial role in Dublin sealing an unprecedented five-in-a-row, and the UCD student is now in the running to be named Footballer of the Year for the first time.
Right from the start of the summer, O'Callaghan looked like he meant business, even in his physical appearance.
"It was in May or something. I was just finished my exams for college, all my mates were going to America so I had to do something. I let my brother get a razor out and shave my head," he laughed.
"He did his best job, actually my two brothers did their best job at ruining my hair and then I went to the barbers and got it chopped!"
It soon caught on among his team-mates.
"(Paul) Mannion followed me and then Smally," he continued. "Paddy Small is the latest addition, he got it done the other day!"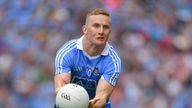 Subscribe to GAA alerts!
We'll send you push notifications so you'll receive all of the big GAA news!
He was also setting trends on the field, leading the Sky Blues' charge from the inside-forward line.
"I was half-forward the last two years," he said. "Previously in my career at underage I would have been in the full-forward line on the edge of the square. Then in 2017 I started playing centre-forward for Dublin and I was there in 2018 as well and I was switching inside and out with Ciaran (Kilkenny) but this year myself and Mannion stayed higher up the pitch.
"It's going back to what I used to do which is get the ball closer to goal.